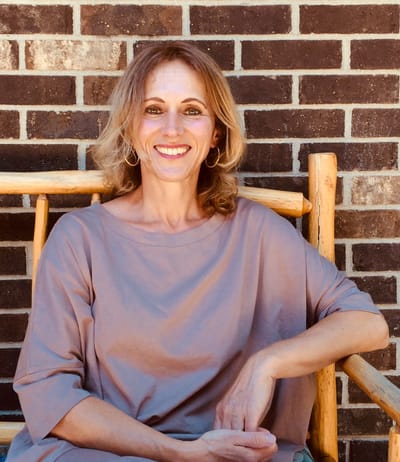 MARIA TEGLAS E-RYT -200, RYT-500, Certified iRest® Yoga Nidra Meditation Teacher, Certified Mudra/Hand Yoga Teacher

"May my eyes be never blinded by the surface of things; may my heart be kneaded soft and yielding by life's trials; may I graciously surrender to the mysterious unfolding of my own life." - an excerpt from The Little Chest of Ready Blessings by Maria
Yoga has supported my life for the past 20 years through all its ups and downs. As an immigrant from Hungary, the mother of five sons, and one who was there for herself on every step of her healing journey from a bout of depression and an anxiety disorder after the birth of my third son; my life, as is that of many others, is a testimony to the healing power of yogic practices and the wisdom teachings of yoga and how they
reconnect
one
with
their
inherent wisdom, resilience and resourcefulness
in the face of life's challenges.
Yoga has proved my fundamental belief that
we already have everything within us to survive and thrive on our human journey. We are born whole and complete and our wholeness does not change throughout our life, only our experiences do. Our job is to become truly curious about our human journey, to stay present with our experience and to pay attention, always to pay attention.
Originally a teacher of English and Russian Languages from Hungary, I came to Canada more than twenty years ago to be with my Canadian husband whom I met while we were both studying in Russia. Building our life together and fueled by a shared adventurous spirit, we spent almost a decade living in the Canadian Arctic. Of all places, it was in the Arctic that I took my first yoga class on a large towel, in place of a yoga mat, on the linoleum floor of Arctic College. My practice started out in a most simple way and to this day I value simplicity: show up each day and make your practice relevant to YOUR life so it can support your ever-changing needs and circumstances and it can support you in tending to what you need to tend to in life.
Throughout my many years of practice and teaching, my passion has been yoga for mental, emotional and spiritual well-being. Fueled by deep curiosity and the desire to equip myself with the transformative tools of this ancient practice - both for myself and my students, I have attended numerous trainings and workshops pertaining to mental and emotional health. Some are as follows: Life Force Yoga® for Managing Moods with Amy Weintraub, Yoga for Emotional Balance with Bo Forbes, Yoga for Depression Teacher Training, Yoga for Anxiety Workshop, and Yoga for Chronic Stress Workshop through Esther Myers Yoga Studio. I am a proud graduate of the 300-hour Advanced Yoga Teacher Training at the Soul of Yoga Institute (Encinitas, California) where I further immersed myself in the application of yogic tools for health, healing and resilience with Master Teachers such as Dr Richard Miller, Monique Lonner, Flossie Parks, Leslie Kaminoff, and Amy Weintraub. .
I am also a Certified iRest® Yoga Nidra Meditation Teacher and received my certificate from the Integrative Restoration Institute. iRest is a form of meditative self-inquiry that research shows effectively reduces PTSD, depression, anxiety, insomnia, chronic pain, and chemical dependency; while increasing health, resiliency and well-being. It is a body centered, guided meditation practice for self-regulation and self-care that focuses on physical, psychological and spiritual health.
My curiosity also led me to explore the practice of Mudras (ancient healing hand gestures). I studied the practice of Mudras, their therapeutic applications and the practice of Mudras with Crystals with Sabrina Mesko PhD. I am a devoted practitioner of these healing hand gestures and also a Certified Mudra/Hand Yoga Teacher.
One passionate mama in the kitchen, I love feeding my tribe and filling their tummies and nourishing their souls with yummy dishes from fresh ingredients. One of my favourite pastimes is drawing in my own comforting, meditative style that I call meditations in ink.
I love spending time outdoors to soak up the Light and to recharge